John Rennie's Descendents Visit Claverton
Sunday, 1st September 2013
We played host to a Astronomy Group from the USA touring Britain in August. Among them was Ronald Rennie, a direct descendent of the K&A and Claverton's original engineer, John Rennie. A visit to The pumping Station was slotted into their programme between Stonehenge and the Herschel Museum of Astronomy.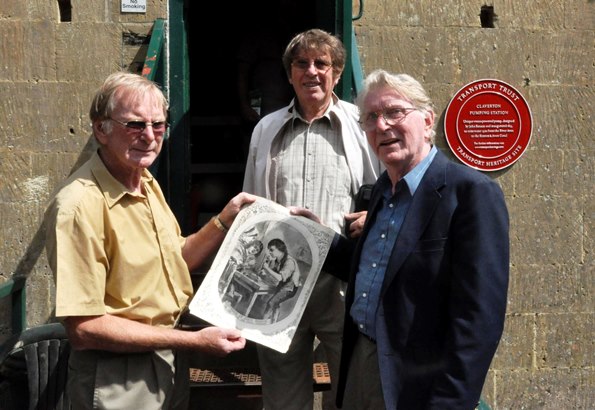 (left to right) Robert, John and Ronald Rennie
Ronald has two brothers, Robert and John. The three have not been together for some years and they decided that this was the perfect opportunity to be reunited along with some of their families, even if it was only for a brief period. All three were very impressed with their ancestors work still in existence, none of them having been to Claverton before. The Claverton Group were very pleased to welcome the Rennies and enjoyed talking to them.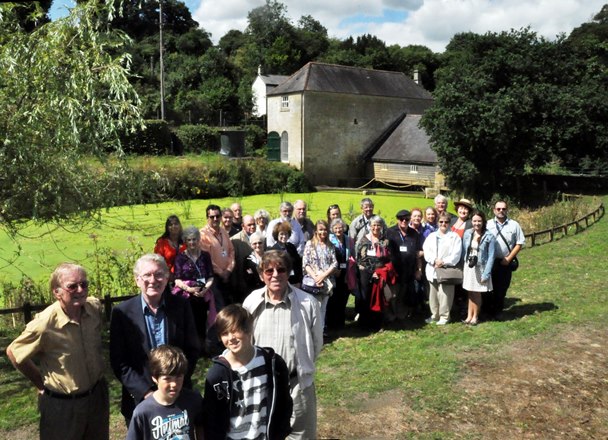 (front) The three Rennie brothers and two grand children (behind) The rest of the astronomy group
Our major restoration project on the water wheel is progressing very well, we should be able to have a test run in the late autumn. I have been inspecting the wooden gear teeth on the pit wheel and we need to make a decision about their future soon. Many are now deteriorating badly and there seems to be little point in having the water wheel in tip top condition and not replace these teeth at the same time. If one or more were to fail in the near future we would regret not replacing them now when we have the tooling, funding and skilled volunteers available. This is not a high cost item but there are 204 teeth to be made and fitted in pairs so it will be a labour intensive and precision job. It's a bit daunting but at the same time exciting and should be a worthwhile and satisfying project.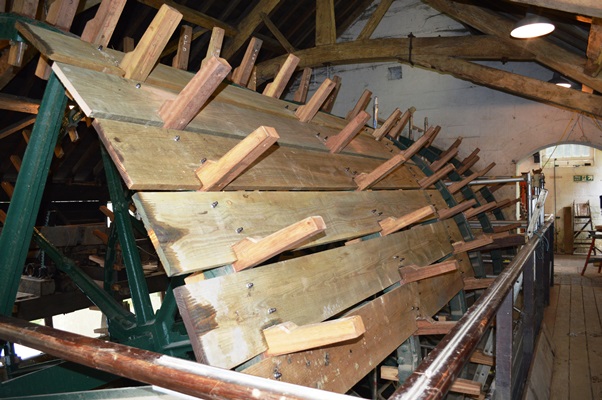 Wheel with new starts and seal boards