Fitting Timber to the Wheel
Monday, 1st April 2013
We are gathering speed with the water wheel restoration now that the weather has dried up and the flooding finally receded. I would like to thank the team for their efforts during the winter cleaning up after each flood was becoming a chore.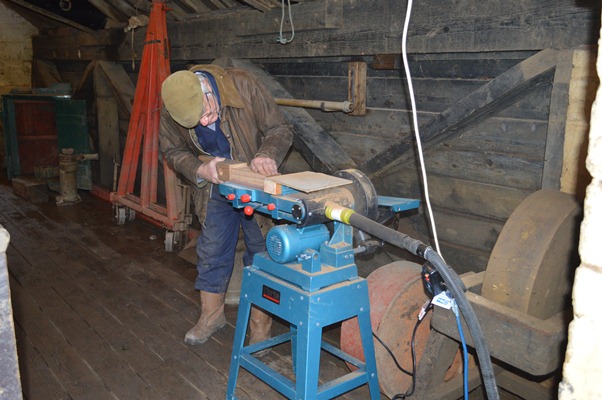 Planing timber sections for the waterwheel
Canal And River Trust have now purchased all the materials to complete the wheel restoration, we thank them for funding the considerable cost of the project and all other expenditure at Claverton.
The work on the wheel must be done with a certain amount of precision. We have developed methods of working that ensure that all parts can be fitted to the same standard by a number of different workers. This method of working was a little time consuming to set up initially but will ensure that we can maintain the standard of preservation set by the original restorers in the past.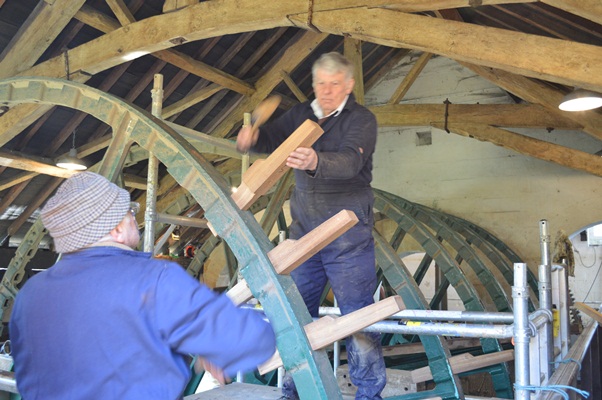 Precision fitting of the starts
As you will probably know the Pump house will be closed to the general public while the wheel work is being carried out, this is due to the walkways being used to house some woodworking machinery which, apart from the hazards of moving blades, also causes a large amount of dust that we cannot allow the public or our members to breathe in. However if you want to view progress arrangements can be made for a visit of large and small groups or individuals, please contact the Pump house on 01225 483001 or email enquiries@claverton.org