Happy 200th Birthday
Wednesday, 13th March 2013
1813 - 2013
On this day the 13th March 1813 it is recorded that the pumping machinery at Claverton Pumping Station was fully functional for the first time and being operated by Mr John Brown. It had cost the Kennet & Avon Canal Company a sum of £6,279 to install.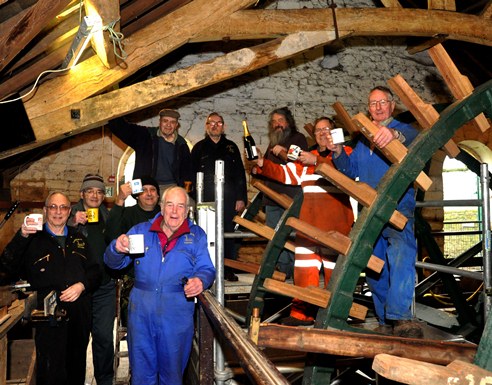 Celebrating the 200th birthday of the pumping station (© R. Coles)
The fact that it has survived for 200 years, more or less in its original state, is a fine testament to the original engineer John Rennie who designed and installed the Station.
We must not forget the maintenance teams from the Great Western Railway who carried out some essential works until nationalisation of the railways in 1948. Their skilled work can still be identified around the site.
In 2012 the newly formed charity The Canal and River Trust took over control of Claverton. This was at an opportune moment as the time had come for a major overhaul of the water wheel timbers, a very large and expensive job. Most of the existing team from the K&ACT have stayed on to ensure that the group's mission statement, "To pass Claverton on to the next generation in as good a state as possible", is achieved.
We regret that on Claverton's two hundredth birthday the group are unable to pump water into the canal but rest assured, this restoration work is well underway and all the materials are in place to complete the water wheel refurbishment in the near future.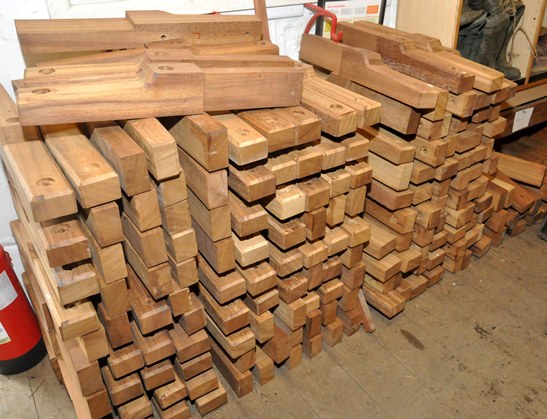 Starts on site waiting to be fitted (© R. Coles)
Claverton is staffed entirely by volunteers and although not open to the public in 2013 we are able to give guided tours for pre booked individuals and groups. They will have the opportunity to view the site and the on-going restoration work.