Sluice winding gear and Burbage Crane
Friday, 18th November 2011
We had a difficult end to the season with a mechanical failure resulting in our last two runs being cancelled, but we stayed open and despite the lack of running we were moderately busy. The failure was the breakage of a gear tooth on the sluice winding gear at the end of a running day. We had some difficulty stopping the wheel but managed to raise the sluice safely and secure the water wheel. The next task was to remove the gear wheel from its shaft where it has sat for almost two hundred years. A replacement cast iron gear wheel has been ordered from a foundry in Bristol, the wheel should be ready by early November then it has to be weathered for some months before it can be fitted. It will be fitted in the spring just before Easter and if all goes well we should make our first run on Easter Sunday as planned.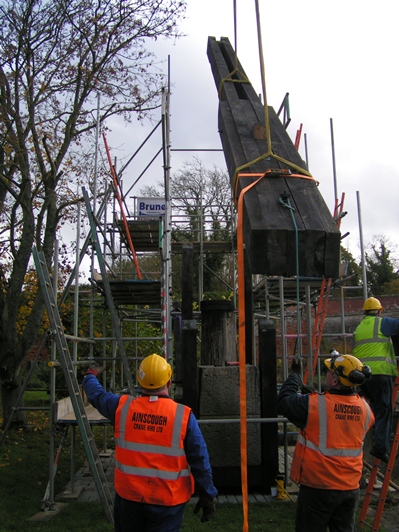 The jib is lowered onto the top of the frame (© Ian Herve)
Our water wheel timbers are showing signs of age now and it's time to start a complete overhaul, we cannot risk a major failure while the wheel is rotating resulting in permanent damage. We all agree that it is our duty to hand the Pumping Station over to the next generation in a working state if at all possible. The refurbishment is a major task and may take us two winters to complete. Anyone with an interest in carpentry who has some spare time is more than welcome to join us.
Now for some good news. Our project to rebuild the Burbage Crane has reached its final stage. On the 2nd of November the team gathered once again on the wharf where with the help of the 55 tonne mobile crane the completed jib was hoisted into position. Locating all the bolts and aligning the complete frame with the king post was a little tricky but with some steady crane work, a hydraulic jack and some good team work this was achieved. Later the jib pulleys and rollers were positioned. The final act of the day was to install the hoisting chain making the job complete. Some small tidy up jobs will be a tackled on our next visit then the scaffolding can be removed to reveal the crane to all. The reconstruction has taken 28 months since we dismantled the old crane and I would like to thank all involved at various times for the excellent job produced. This is another piece of The K&A`s heritage that has been saved.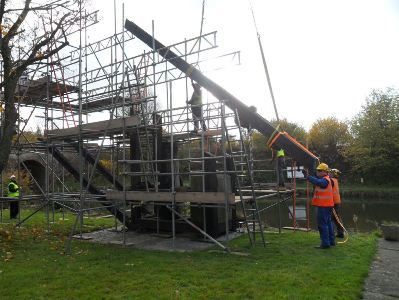 The jib approches the final position (© Ian Wills)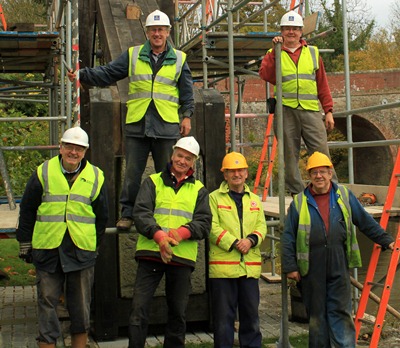 The team pose for the "topping out" picture (© Maurice Pullin)