Pump Ready After Winter Maintenance
Monday, 9th May 2011
The winter maintenance this year has proven to be a success. We removed the pumps piston and foot valve for replacement of the wooden valve seats. Our first runs over Easter and May Day weekends showed a big improvement in the efficiency of the priming and water delivery.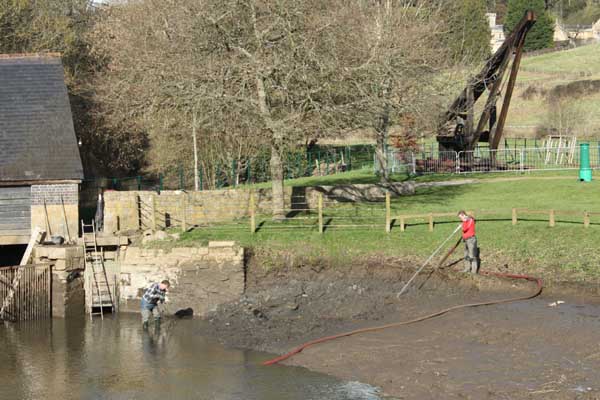 Clearing the millpond
Also during the winter months we were able to take advantage of a prolonged breakdown of the electric pumping system which shares our mill pond, to thoroughly remove several tons of silt that had built up over the last few years. As you can imagine, a good flow of water onto the water wheel is very important. The mill pond is now in its best condition for many years. Unfortunately the same cannot be said for the channel or leat that feeds the pond, there are a number of fallen trees across its entrance near Warleigh Weir and a considerable blockage has developed. To clear this effectively is beyond the scope of volunteers with limited resources and large machinery will be needed. This also affects the operation of the B.W electric pumps and we are in discussion with their engineers to provide a solution.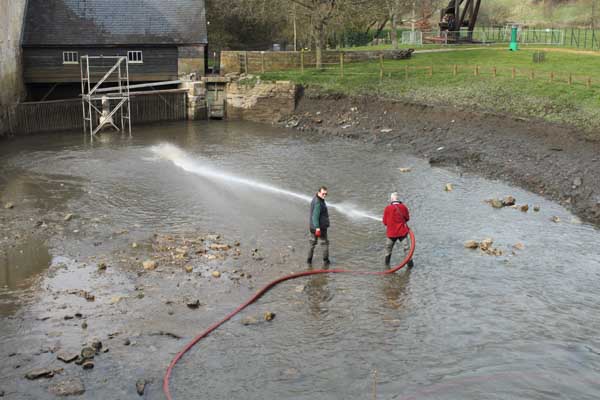 Clearing the millpond needs a good pair of waders!
We are very concerned about the forthcoming Charity status of B.W. as we do not know where our Pump House will fit into the new organisation. Unlike Crofton, the Trust does not own Claverton. At present we do not have a formal agreement to operate the Pump, or be there at all as the last lease ended in 2001. Despite many attempts to rectify this situation we have been thwarted on each occasion by changes in the B.W structure. Now once again the setting up of the new waterways charity appears to have stalled the negotiations. Claverton is a unique and very important piece of waterways and industrial heritage and it is our duty to ensure that it survives, to be passed on to future generations. The Claverton Group are determined to do this. We have the expertise and knowledge that is required, but extra support is always welcome. Claverton's future needs to be secured. We are looking for commercially minded people who would like to assist with the ongoing story of Claverton pumping Station.