Derrick Dudden 1934-2011
Sunday, 1st May 2011
Derrick trained as a Toolmaker and became an Inventive Engineer for Rolls Royce Bristol. His Interest in Canal Restoration began with the start of the Bath Locks project in 1967, and with Waterway Recovery Group also worked on many other canals around the country.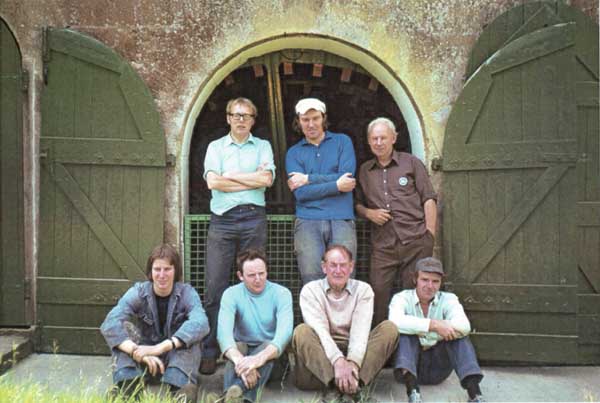 The original restoration team, Derrick is centre rear
In 1969 he was asked to liase with students of the BathUniversity engineering department to assist in restoring the derelict pumping station at Claverton in order to overcome the shortage of water to the canal. As student commitment and time was limited a group of volunteers from the Bath locks went with him to continue the restoration. His knowledge of engineering and his determination to acquire the skills of a millwright, and his leadership and management skills were soon producing tangible results. This enabled the Pump House to deliver water to the canal for the temporary opening of the Bath locks in 1974.
He produced many of the technical diagrams and parts for the machinery at home. His team were inspired by his leadership and stayed on to open the Pump House to the public after restoration and also to enjoy many boating holidays with him throughout the years.
In the mid eighties Derrick's health deteriorated so that he took early retirement from work and his time available to Claverton was limited, though he still remained interested and often visited in an advisory capacity.
It is generally accepted that without Derrick's leadership the restoration of Claverton would have taken much longer or indeed may not have been completed.
At the time of his death he was working on the second love of his life restoring an old motor bike.
The present team at Claverton were always pleased when Derrick popped in to Claverton his advice was always useful, we can appreciate his skills with the high standard of the restoration which has stood the test of time. Derrick set a high standard which we strive to maintain, the Claverton restoration is a fitting tribute to Derrick Dudden.